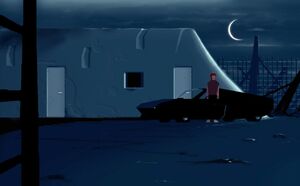 "
Beneath a sky awash with lightning strokes, a Ferrari raced along rain swollen streets. Lester Knight Chaykin was behind the wheel, listening to heavy metal riffs on a Classic Rock station; he had changed the dial when the other station played a flash flood warning one too many times for his liking. Lester could feel the speed of the car as a taut pressure against his entire body. He enjoyed it - Lester had never done anything slow in his life. It had taken him only four years to get his Doctorate; it had taken him a mere six weeks to write his thesis, and he had brought the world's most complex scientific experiment from concept to prototype in just sixteen months.
"

–excerpt from the first two pages of the Out of this World MS DOS Manual
Ad blocker interference detected!
Wikia is a free-to-use site that makes money from advertising. We have a modified experience for viewers using ad blockers

Wikia is not accessible if you've made further modifications. Remove the custom ad blocker rule(s) and the page will load as expected.